The Life of Abraham:
Translation Holiday Intensive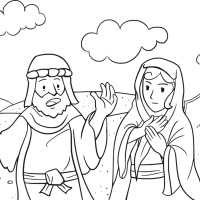 This holiday intensive course focuses on the extraordinary life of the first patriarch, Abraham, and his family. The story of Abraham's family is both relatable and unbelievable and includes the full spectrum of human experience from love to betrayal, faith to doubt, and despair to praise. Each lesson we will focus on a different key moment of Abraham's life, including his calling, the birth of his sons, the forced exile of Hagar, and the binding of Isaac (in the original Hebrew, of course!). In addition to a close reading of the Hebrew text, each week we will delve into seminal scholarship on related themes. The course includes 6 classes that run over 3 weeks in January 2024. Each week we will meet for 2x 1.5hr classes where we will translate selections from Genesis 17-22 and discuss the assigned scholarly reading.
This holiday intensive course is suitable for all levels of Hebrew learners who have done at least 1 semester (or equivalent) of ancient Hebrew.

Week 1: Monday 8th Jan 8am-9:30am; Wed 10th Jan 8am-9:30am 
Week 2: Monday 15th Jan 8am-9:30am; Wed 17th Jan 8am-9:30am
Week 3: Monday 22nd Jan 8am-9:30am; Wed 24th Jan 8am-9:30am
3 weeks
2 x 1.5hr live online class per week (recordings will be made available to students to download)
Selections from Genesis 17-22 

There is no textbook for this course. All readings and biblical texts will be provided to students prior to the course commencement.
I found my passion for Hebrew in Natalie's classes. She is a creative, engaging and thoughtful teacher, and her enthusiasm for Hebrew is infectious!
Intermediate Hebrew had a really fun, relaxed atmosphere. The content was taught thoroughly, at a pace that was practical to keep up with.